ICYMI: Our second roadmap webinar is in the books!
Author

Meg Watson, Spotify

Published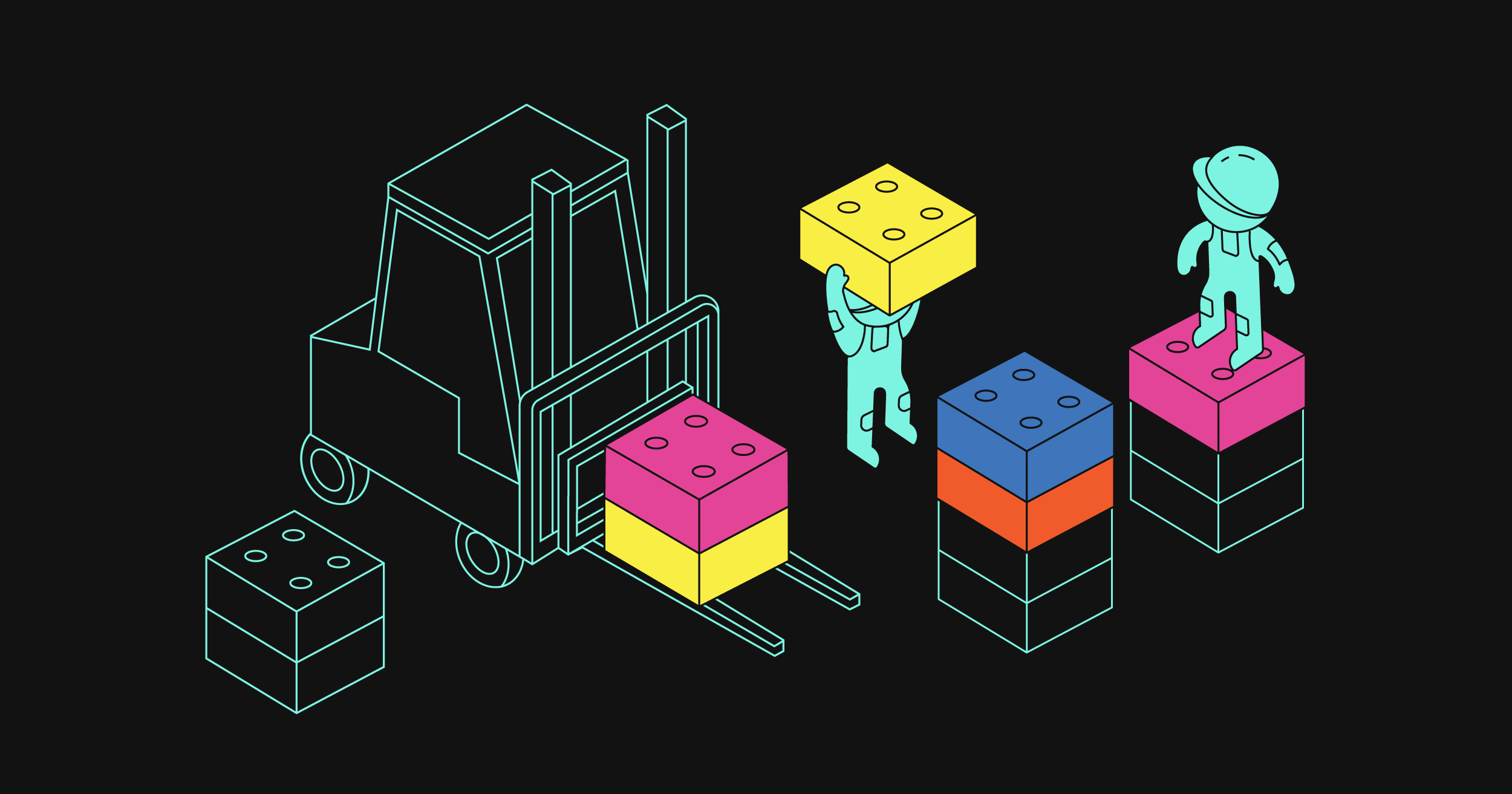 tl;dr We just hosted our second Spotify for Backstage roadmap webinar! We covered our investments to enhance the core Backstage platform, reduce barriers to adoption, and share new stuff coming from Spotify. Read on for details, watch the webinar recording, and tell us what you're most interested in!
Today, the Spotify for Backstage team held our second roadmap webinar. We're hosting these events every six months to make sure we're building in the open and sharing our learnings, upcoming new features, and product vision as part of Spotify's continued investment in the Backstage project.
We may sound like a broken record, but Spotify is all-in on Backstage. We're working on ways to deliver more value to Backstage adopters faster by enhancing and contributing to the core platform, removing barriers to adoption, and sharing our expertise with you via new products and services.
So let's take a look at what we covered earlier today!
Coming soon: Spotify Marketplace for Backstage
Earlier this year, we announced that we were investing in making it easier for adopters to find and validate solutions to add to their Backstage instance.
What we've learned is that — while the open source plugin ecosystem is very rich and continues to grow —  there's no easy way of understanding which of the 100+ open source plugins are actively maintained, secure, and validated. It's also difficult to find the right options when your needs evolve and may not be supported by open source offerings alone.
Today we shared that we will launch the Spotify Marketplace for Backstage by the end of year with partners like VMware, Red Hat, Snyk, PagerDuty, CircleCI, Weaveworks, and more! With this Marketplace investment, we're aiming to drive the expansion of the Backstage ecosystem, making it easier for partners to build from its open source foundation.
In addition to having everything you need in one place, you'll also have the ability to filter the offerings Spotify has vetted with trusted partners. Our goal is to make it easier than ever to find, install, and use what you need for Backstage.
Interested in listing in our Marketplace? Let us know here.
Evolving the core platform
Declarative Integration for plugins
Since we last spoke, we've been hard at work on Declarative Integration for plugins, a contribution Spotify is spearheading within the open source project, which is intended to make it even easier to get up and running with new plugins as an organization's needs evolve.
Declarative Integration is a simplified integration of plugins powered by your config in one single place. With this new capability, you no longer need to know Typescript, NodeJS or write any code to get started with Backstage or to set up a new plugin.
Instead of spending your technical resources on managing or upgrading your instance, you can refocus that energy and time managing your own products and shipping new features within Backstage. Declarative Integration is still in development and we encourage plugin owners to ensure their plugin is ready by migrating their plugin's backend to the new Backend System.
Insightful Homepage
As we mentioned today, we recently launched our Insightful Homepage internally at Spotify to make it easier for our teams to find what they need within Backstage without manually searching for it.
The feedback has been great – and we're looking forward to sharing it with you in the coming weeks! Spotify plans to open source components to the Home plugin to make it easy to add things like Top Visited and Recently Visited within your Backstage homepage. Please stay tuned for release timing in upcoming community sessions and open source release notes.
Accessibility improvements
We've also been investing in greater accessibility for Backstage, with a focus on core components like the Software Catalog, Scaffolder, TechDocs, and Search over recent months.
Additionally, in an effort to bake accessibility practices further into the process of developing within Backstage, Spotify has rolled out automated CI tests within the open source project. While these are non-blocking, we're hopeful the tooling will push us all to consider the accessibility implications of work within Backstage in order to build a great experience for everyone.
Removing barriers to adoption
We recently celebrated Backstage hitting an important milestone with more than 2,000 companies around the world adopting the project – up nearly 4X from the beginning of 2023. But we also hear feedback that Backstage can be tough to get started with.
Quickstart
We first announced Spotify Quickstart for Backstage back in May, and since then we've been building toward a private beta that will launch with a small group of testers next month.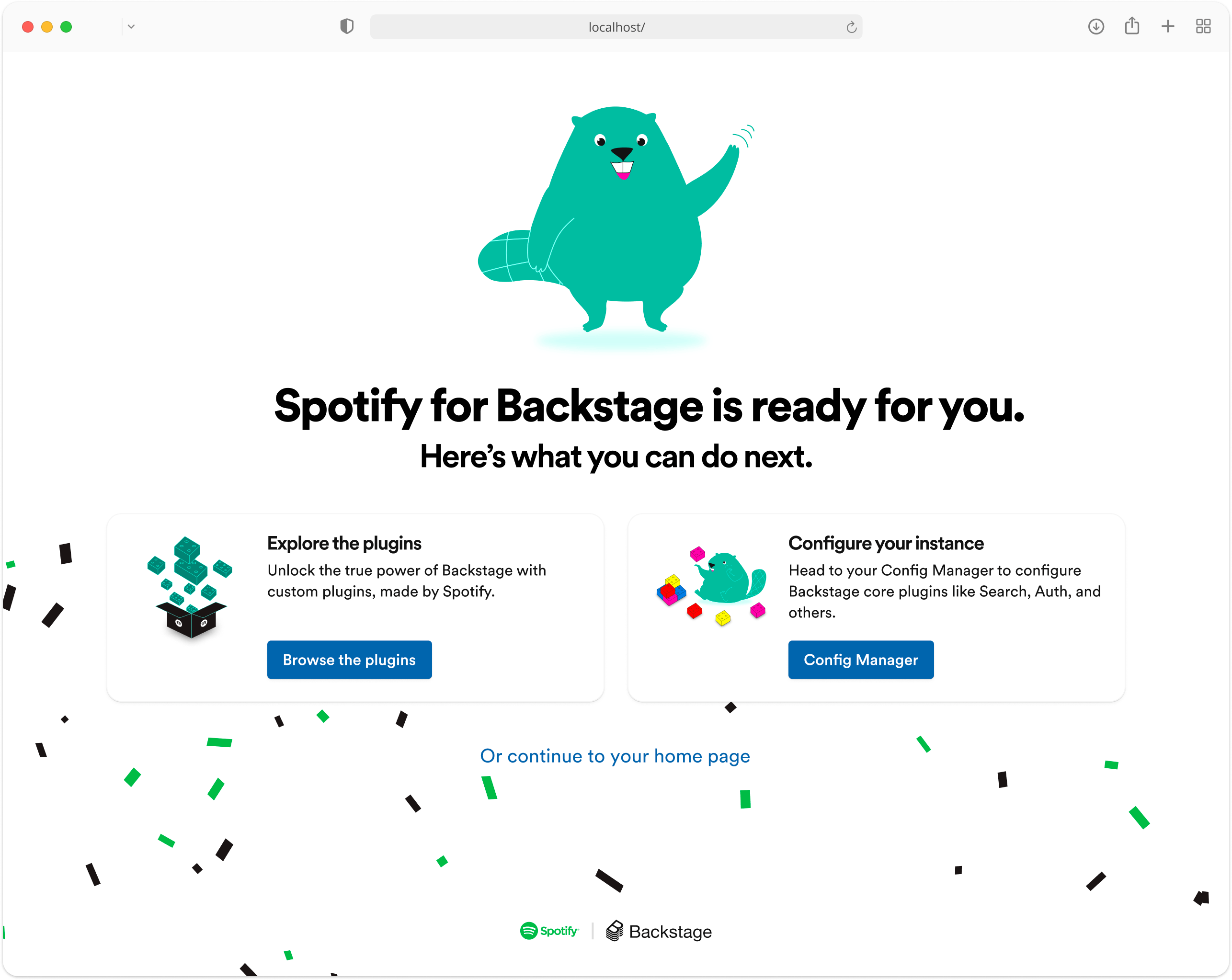 Quickstart will enable adopters to get up and running much faster by removing the need to stand up and maintain a codebase in order to set up Backstage — reducing the now-manual installation process from more than 70 steps to as few as three steps through an install wizard!
Because we've mitigated the need for a codebase, Quickstart will also fundamentally reduce the cost of maintaining Backstage.
Our aim is to make Quickstart publicly available in early 2024 – please stay tuned on what's ahead for us here!
Improving the plugin bundle
The Spotify Plugins for Backstage is a paid offering available to all Backstage adopters. The bundle currently includes five plugins designed to address different aspects of developer experience and engineering culture.
Since launching last year, we've heard incredible feedback from the community, and we've been working to address that feedback early and often. What's most important to us today is building meaningful, long-term relationships with customers that enables us to grow together as Spotify continues to release more of its software to the market.
Now, let's get to the highlight reel! For a full account of what we've been up to, check out our bundle release notes.
A few releases since we last spoke
Soundcheck: We released tech health reports. Soundcheck now contains a Tech Health tab where users can both view and filter aggregate Soundcheck results across teams, components, checks, and tracks.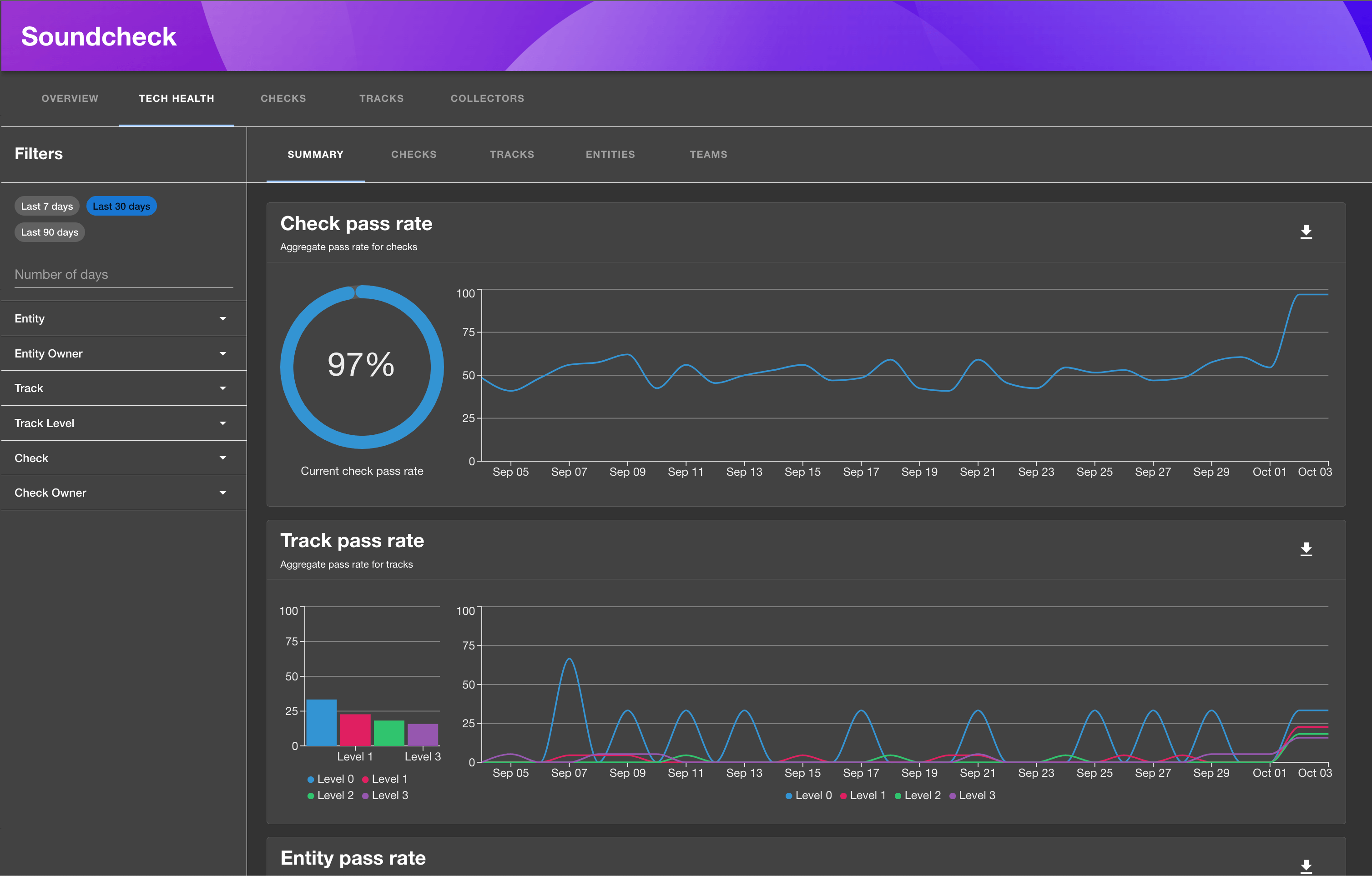 Insights: We released an entirely new Insights experience within Backstage, enabling admins to have greater visibility into Backstage usage within their organization. We're excited to continue investing in making Insights the one-stop shop for visibility and recommendations to power Backstage within your organization.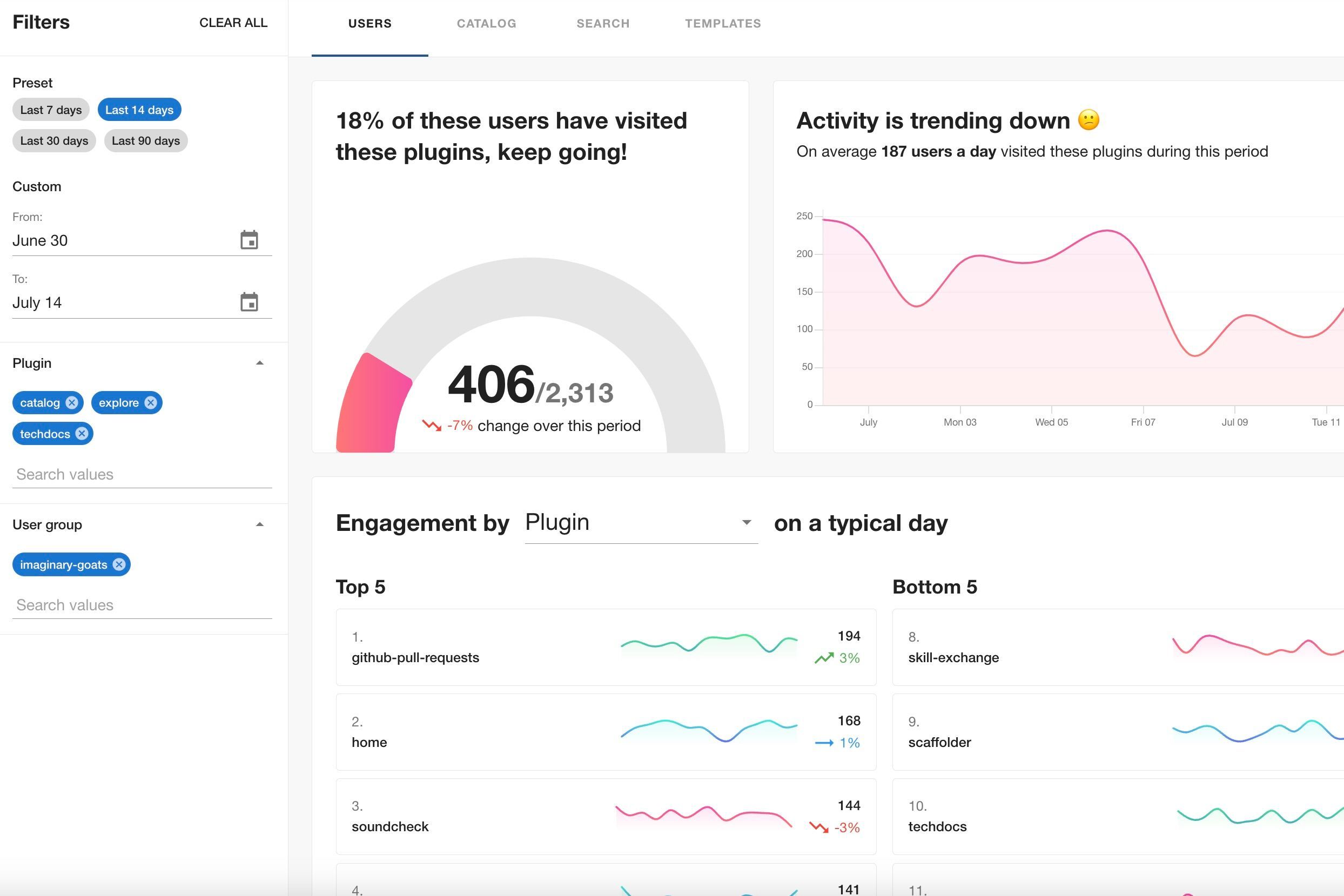 RBAC: We integrated Soundcheck with the RBAC plugin. Now, Admins can use the RBAC plugin to manage what individual users or groups can do within Soundcheck.
Skill Exchange: We released improvements making it easier to search embeds by location, add labels to prioritize opportunities, and more.
What's next for the bundle
And, of course, what would a roadmap webinar be without...stuff on the roadmap! We covered a few key updates within the plugin bundle that we're particularly excited about.
RBAC: We'll be releasing a new feature to RBAC for expanding the visibility of permissions. Soon, customers will be able to identify which entities within Backstage hold specific permissions, no matter where they are within the Backstage environment.
Soundcheck: Remember those tech health reports we talked about? Very soon, customers will be able to export reports directly from Soundcheck. Following that we'll be releasing the ability to create Soundcheck campaigns, which helps drive focused initiatives — such as when the log4j library needs to be updated across teams — as well as adding the ability to send notifications when the status of a campaign changes.
Pulse: We've been busy building out a more powerful version of Pulse that will enable customers to learn much more about their R&D experience with more survey templates and survey questions. This includes a new type of survey called lightning surveys, which are short, low-risk templates that enable you to get started with Pulse quickly.
Skill Exchange: We'll be updating the Skill Exchange Hack experience, which will include improvements to discoverability making it easier to find a colleagues' hack ideas based on context, including a new view that allows hack teams to easily manage votes for their favorite hacks.
Coming soon: More plugins!
Confidence
In August, our Experimentation team announced Confidence: the external version of our homegrown experimentation platform into private beta. We saw a huge amount of interest and the Confidence team is now hard at work testing the platform with a small number of customers and sharing the different ways Confidence can enable a culture of experimentation at your company.
During this roadmap webinar, we shared more details on the Confidence platform with a demo and walkthrough of its core use cases and benefits, and how adopters can leverage Confidence within Backstage.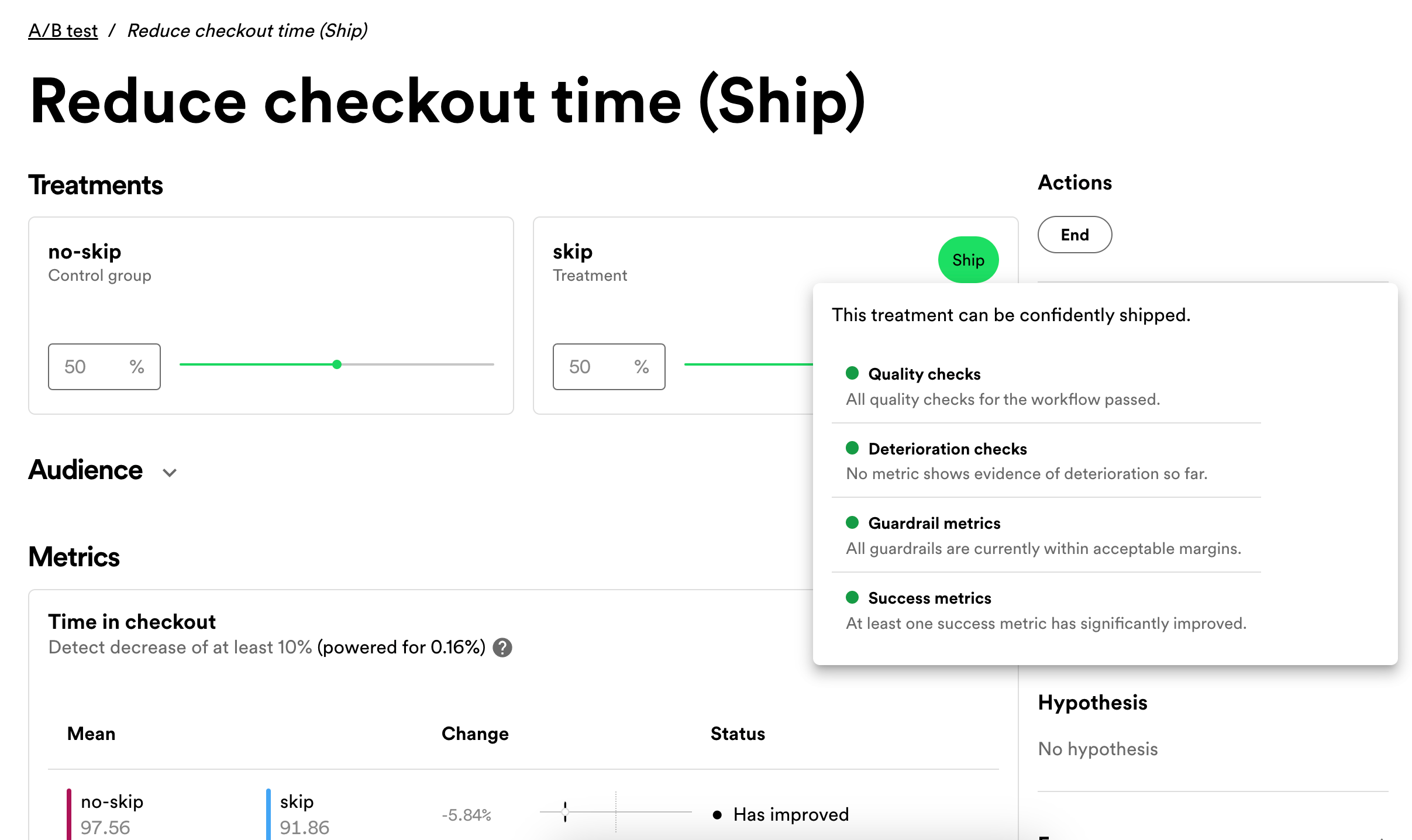 If you're looking for more information on Confidence, read this blog and sign up for the private beta waitlist.
Data Experience
We're also in active testing with Data Experience, a new solution that enables organizations to see all of their data next to their Software Catalog directly within Backstage.
We view the Data Experience as a critical component of what makes Backstage work so well at Spotify – and we're looking forward to hearing your feedback via future phases.
Sign up to stay in-the-know!
As you can see, there's a lot of goodness coming from Spotify for Backstage. And we want to know what you're most interested in! Fill out this form to tell us what's exciting to you and stay updated as we roll new things out.
If you're itching to (re)watch the webinar, take a look at the video on YouTube.
Excited about the plugin bundle and want to see the plugins in action? Attend a demo.