Proven at Spotify.
Made just for you.
Backstage is an open source framework for building developer portals, created at Spotify, donated to the CNCF, and adopted by thousands of companies.

Introducing the Spotify Marketplace for Backstage
Discover solutions from Spotify and trusted third-party plugins for Backstage. Within the Marketplace, adopters can integrate plugins and products that are:
Spotify Plugins for Backstage

Beta
Level up your Backstage app with a bundle of premium paid plugins – made with love at Spotify. The Spotify plugin bundle solves ownership, drives best practices, improves visibility and decision-making, and facilitates collaboration and learning.
Soundcheck
RBAC
Skill Exchange
Insights
Pulse
For orgs of all shapes and sizes
Backstage is what our thousands of R&D members use to manage tens of thousands of software components at Spotify. Despite our engineers' love for our autonomous culture, they embrace Backstage for its ability to create order, facilitate collaboration, and keep them in their flow state. We like to say that if Backstage can work here, then it can work anywhere — and we're happy to help show you how.
One place for everything
With Backstage, you can build one central place for your engineering organization's tools, resources, and documentation — from CI/CD status to Kubernetes monitoring, to API and library docs, to deciphering your monorepos, and everything in between. Basically, whatever your developers need outside their repo and IDE.
From chaos to rocket fuel
When a developer can't find the API or SDK they need, it doesn't just make them cranky, it brings productivity to a halt. Backstage reduces that everyday friction, cognitive overhead, and operational toil, so your developers can stay in their flow state longer and focus on what they want most: building and shipping great code.
Fits your tech culture
Backstage has a flexible, plugin-based architecture that allows you to customize it to fit the needs of your organization — whether it's a large, cloud-native org like ours, a Fortune 500 undergoing digital transformation, or a fast-growing startup.
The 200 tipping point
Our rule of thumb: if your organization has more than 200 engineers or microservices, then Backstage can restore order to your growing chaos. And if your organization is much larger, let Backstage take care of managing and scaling your countless infrastructure tools, microservices, and teams, so that you can focus more on delivering business value.
Three ways Backstage makes
an engineer's life easier
Create
Backstage Software Templates and TechDocs make it easy for your developers to build a new microservice, mobile feature, data pipeline, or any other software component — with your best practices baked in. Time-to-Hello World is reduced to just a few clicks, so engineers are free to focus on developing features. It's the simplest way for large orgs to get started with Backstage.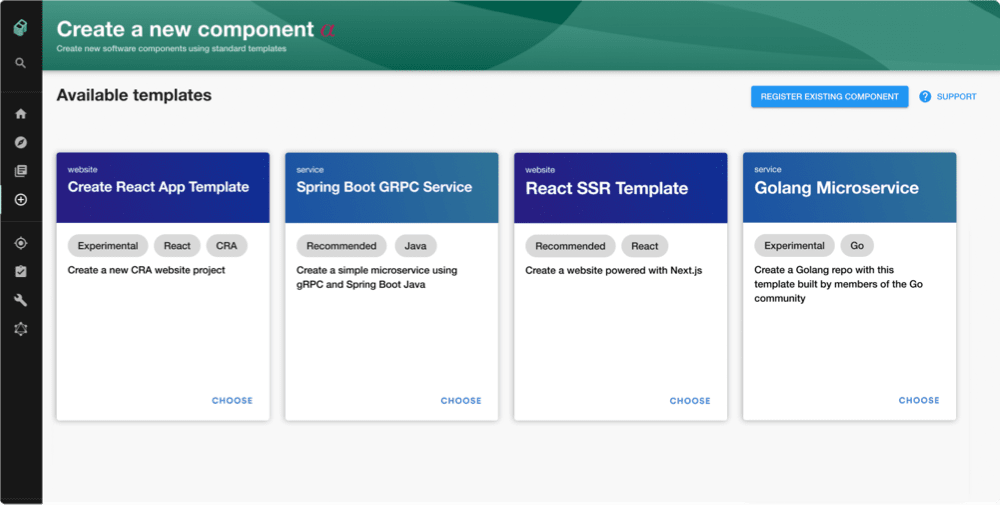 Manage
The Backstage Software Catalog and Kubernetes make it possible for a single team to manage dozens of software components — and your org to manage thousands of them. Instead of switching from your cloud provider's console to your security tool to your CI/CD, everything you need is just a tab away. You can manage the lifecycle of your component, see which components are dependent on your API, or respond to incidents easily within Backstage. Operate your software components easily with a transparent and centralized repository.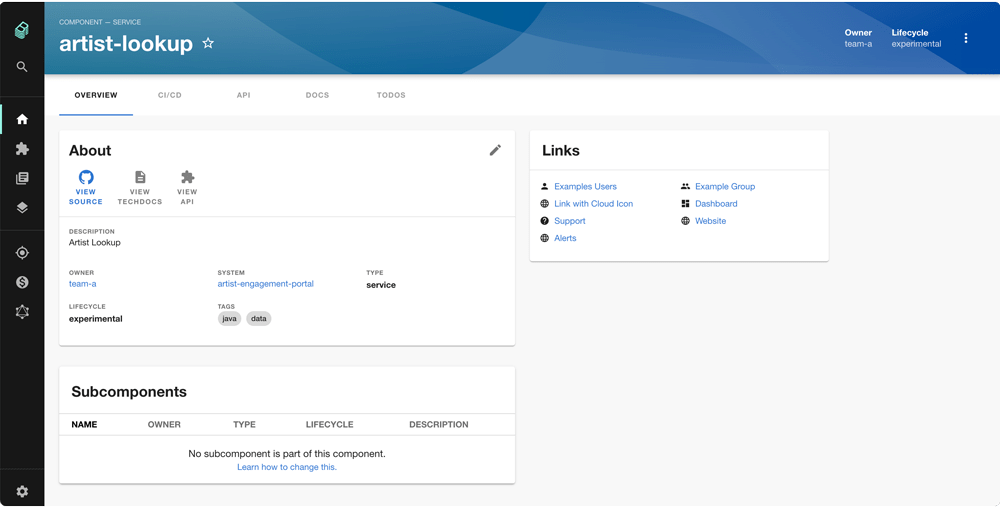 Explore
When you have thousands of engineers building thousands of components, how can anyone find anything? With Backstage, troubleshooters can find service owners, new hires can find documentation, everyone can share, build, and collaborate together — avoiding duplication — because everything is discoverable inside Backstage.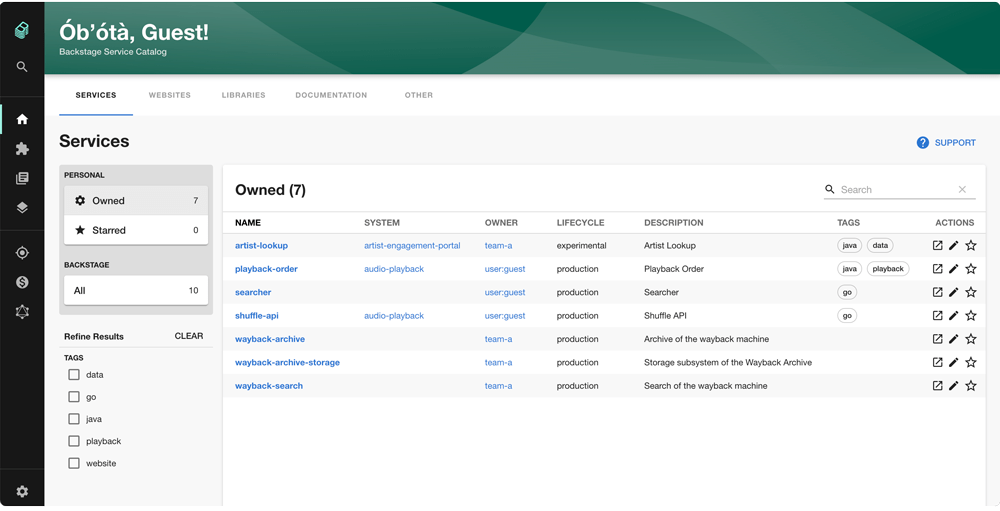 Backstage by the numbers
1.5M+
Devs using Backstage
Who else is using Backstage?
Along with the official list of adopters, we've talked with well thousands of tech organizations about adopting Backstage. Here are a few of their stories.
Netflix looked at a lot of different options to fill their developer portal needs. They chose Backstage because it's built for extensibility and is an open source solution supported by a strong community.
Watch panel discussion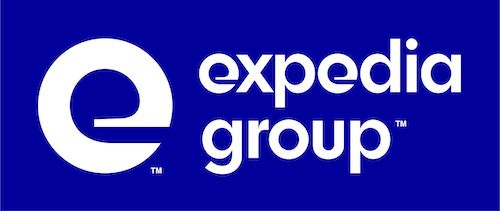 Take Backstage to the next level