Insights and Soundcheck get exciting updates in our July release
Author

Emma White, Spotify

Published
tl;dr The month of July heralds in an exciting release for the Spotify Plugins for Backstage bundle! We're introducing a No-Code UI for Soundcheck, new integration between Soundcheck and RBAC, and a new home paired with additional functionality for Insights. Plus – check out the makeover on our product pages!
Back in May at the Spotify for Backstage roadmap webinar, we talked a lot about our goals to deliver more value to Backstage adopters and Spotify Plugins for Backstage bundle customers. In particular, we're committed to addressing barriers to adoption, building in more Spotify opinionation into new features, and making our products easier to use.
We've been hard at work 💪 improving the plugin bundle with monthly releases based on the feedback we're hearing from customers. But this month is particularly exciting as we're rolling out some new B-I-G features for Soundcheck and Insights aimed at reducing time to value and facilitating adoption, integrations between RBAC and Soundcheck designed to unify the bundle experience and keep your Backstage instance secure, as well as some website UI and design upgrades aimed at making product information easier to find.
Let's dive into the highlights of the July release! 🚀
Insights gets new features and a new home
The Insights plugin provides a comprehensive window into Backstage usage at your organization 📈 and is an incredibly useful tool to help the Backstage champions (we're talking to you, Platform PM/Tech Lead/Staff Engineer/Backstage hero!) drive widespread adoption in their org.
We've heard from our customers that they want more visibility 🔎 into their Backstage usage, particularly data around plugins and actions registered within Backstage. We know that key data points — which plugins are most frequently used, what users are searching for within your organization, how your users are engaging with core open source plugins — is critical to understanding Backstage usage trends, which help drive decision-making around adoption.
With the July release, Insights now has advanced filtering and segmentation functionality with the default dimensions like 'User group', 'Entity kind' and 'Lifecycle' (and more) as well as the ability to create your own custom dimensions that best fit your organization. We've also added tailored dashboards for surfacing insights into users, Backstage Software Catalog, Search and Software Template usage activity. 🙌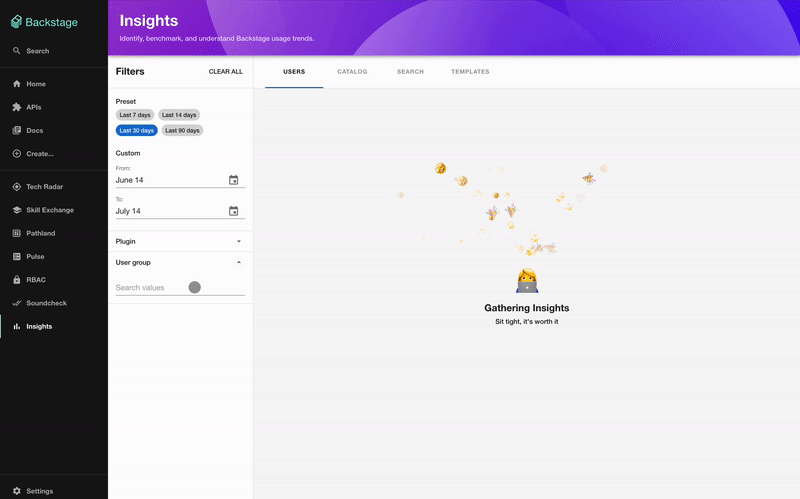 We also heard from customers that they wanted to be able to surface Insights within their Backstage instance vs. navigating through our site. So we're also excited to share that Insights is now a true plugin! When we launched Insights as part of the plugin bundle subscription in December 2022, Insights dashboards were managed as a hosted service offered by Spotify and available through a customer account profile on backstage.spotify.com.
Now, if you're a new customer, you'll be able to install Insights directly in your Backstage instance just like any other plugin. Current customers will need to undergo a low-lift migration by installing the frontend Insights plugin.
Check out the Release Notes for information on both these upgrades.
Soundcheck is now easier to use and more secure
We continue to see a lot of interest in Soundcheck from companies that want to drive meaningful improvement in the health 💊 of their tech ecosystem. Since launching in December, the team has moved quickly to bring more value to customers by introducing third-party integrations and fact frameworks. In the July release, we're making Soundcheck easier to use for non-programmers and more secure through an integration with the RBAC plugin.
We are excited to introduce a No-Code UI for checks and tracks management that provides additional capabilities for non-programmers to add checks and tracks through a graphical interface without needing to write code. This capability is an addition to performing CRUD operations through yaml configuration — making it easier for Backstage adopters to add checks and tracks. Following this release, we'll also be adding the capability to add fact collectors through the UI.
With the No-Code UI, we aim to reduce the barrier to entry and further close the capability gap for Soundcheck configuration. For more information, please read through the Release Notes.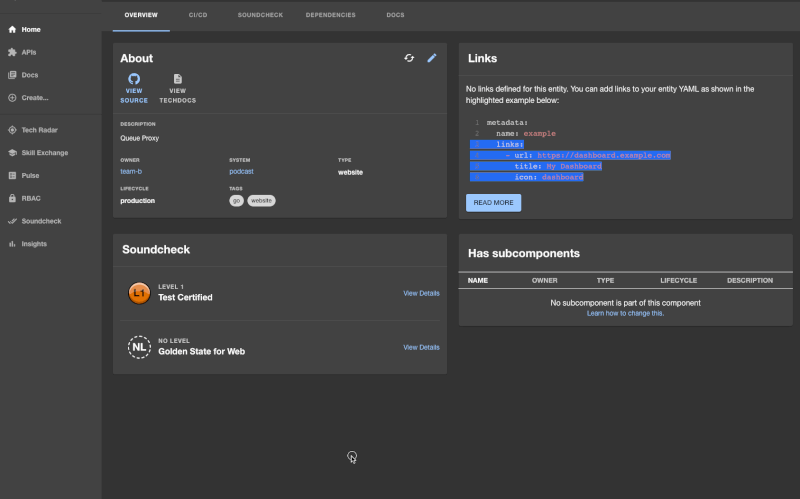 We're also hearing from customers that they want to make their actions more secure in Backstage. 🔐 To address this feedback, Soundcheck now integrates with RBAC. Admins can use the RBAC plugin to manage (allow and restrict) what individual users or groups can do within Soundcheck. By default, all permissions are allowed and a logged-in user can see all of the tracks on the track page even if they don't own the track. However, customers now have the ability to gate which Soundcheck tracks and checks are viewed and restrict viewing to to the components users have access to.
This is the first step in a broader effort to bring more interoperability between the plugins and unify the bundle experience. Once again, check out the Release Notes for next steps.
New site serving face 😎
Last but not least, we made a few changes to our website design and content UI. You might notice that the plugin product pages look a little different or that the FAQs have moved under the /Docs tab. We're making these changes to improve discoverability on our site and help you find the information you're looking for faster. The changes will also support new documentation resources that we hope to share with you soon #watchthisspace!
Check out a demo
We hope you're as pumped 🏋 as we are about these upgrades to the plugin bundle. If you're interested in learning more about the new features, please fill out the form below and we'll send you an overview PDF or join one of our weekly demos. We can't wait to hear what you think!