Collect data that drives continuous improvements to your R&D tooling, processes, and culture. About Pulse
Pulse is an R&D survey framework that lets you track key productivity and satisfaction metrics, analyze anonymized response data, and visualize trends — all within Backstage. Collect the data you need to drive continuous improvements to your R&D tooling, processes, and culture — and ship code faster.
Questions designed by experts

We've carefully crafted Pulse questions alongside a group of experts in the field of engineering productivity and satisfaction, and through our years of experience running internal developer surveys. Pulse focuses on the concerns of your tech community, covering blind spots that general HR surveys might miss.

Measure R&D productivity

Pulse helps you put real values to key engineering metrics like productivity, satisfaction, and flow. Ground your conversations in data to help improve your engineering experience.

Identify opportunities to ship faster

Pulse visualizes anonymized survey results, so that you can benchmark performance over time, identify trends, and understand where your developers face bottlenecks. Use these insights to drive improvements in R&D tools and ship faster.
Pulse features
Homepage
The Pulse homepage provides key details about the survey methodology, process, and results data. From here, administrators can create new surveys, participants can take surveys, and anyone can view survey results.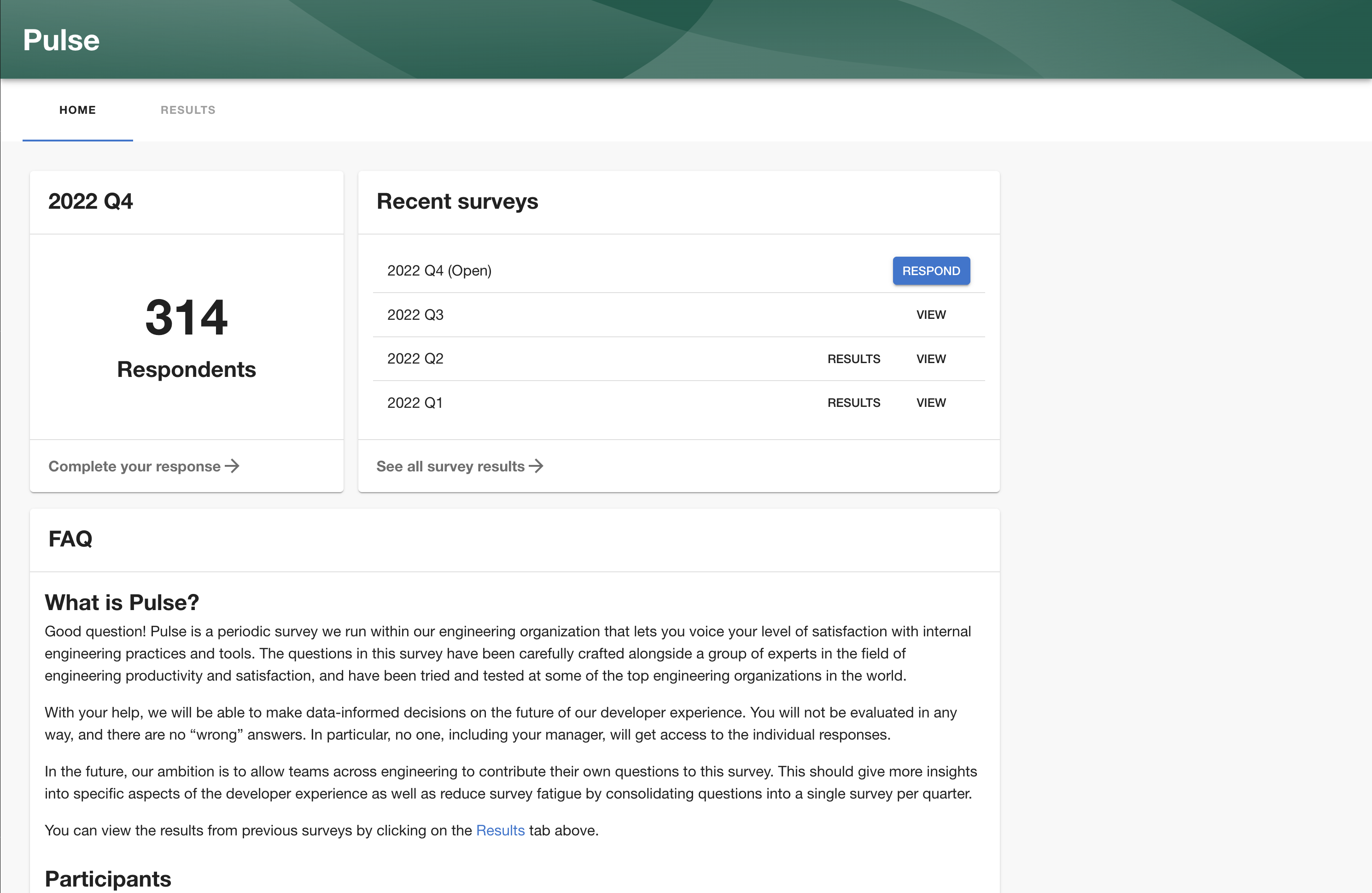 Configure a survey
The Pulse plugin takes care of the heavy lifting for survey creation and provides a straightforward template that allows a survey administrator or set of administrators to launch a survey in seconds.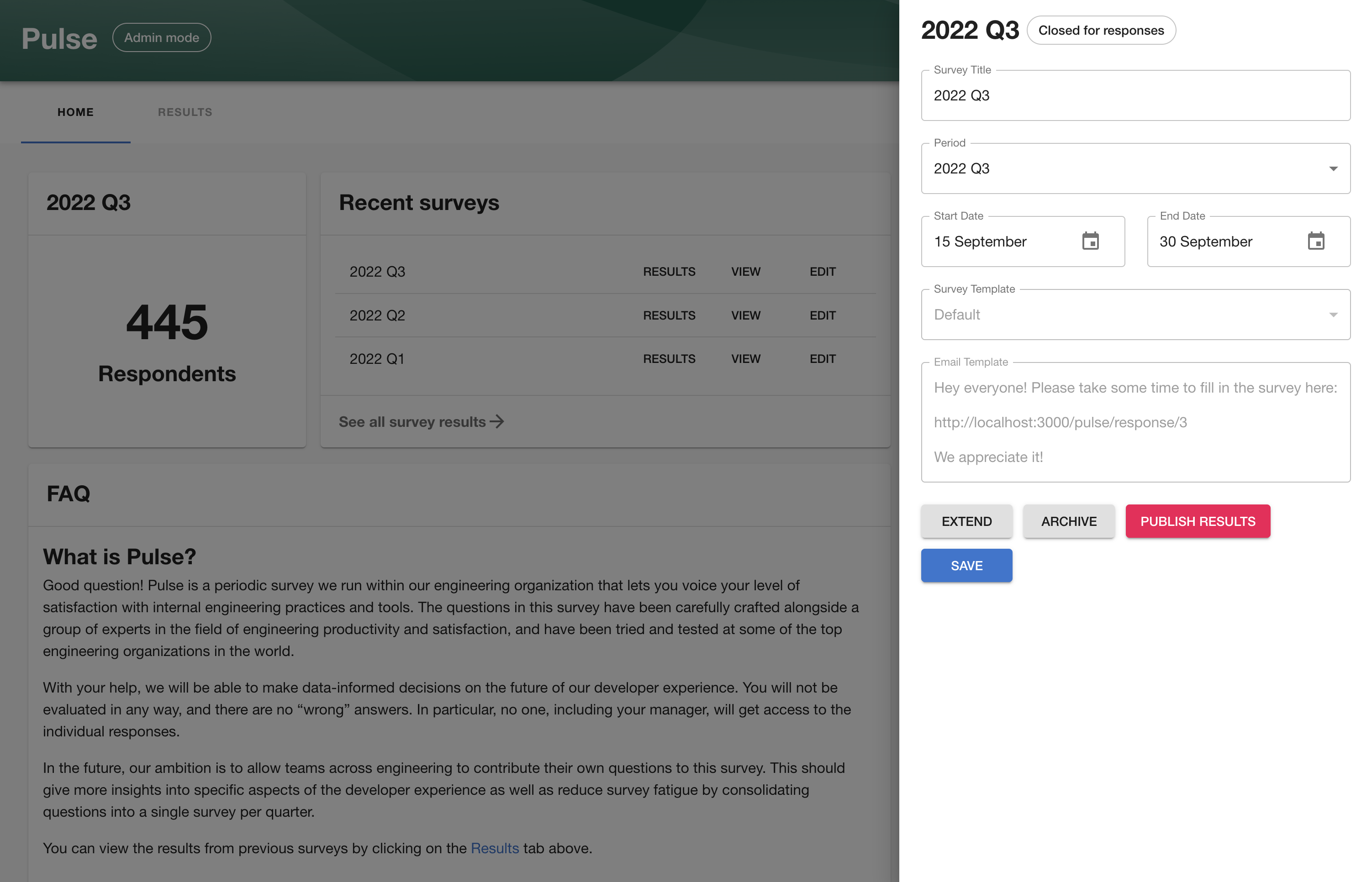 Take a survey
The Pulse question set takes a few minutes to complete and is entirely integrated into the participants' existing Backstage workflow, which means you're more likely to get the feedback you need.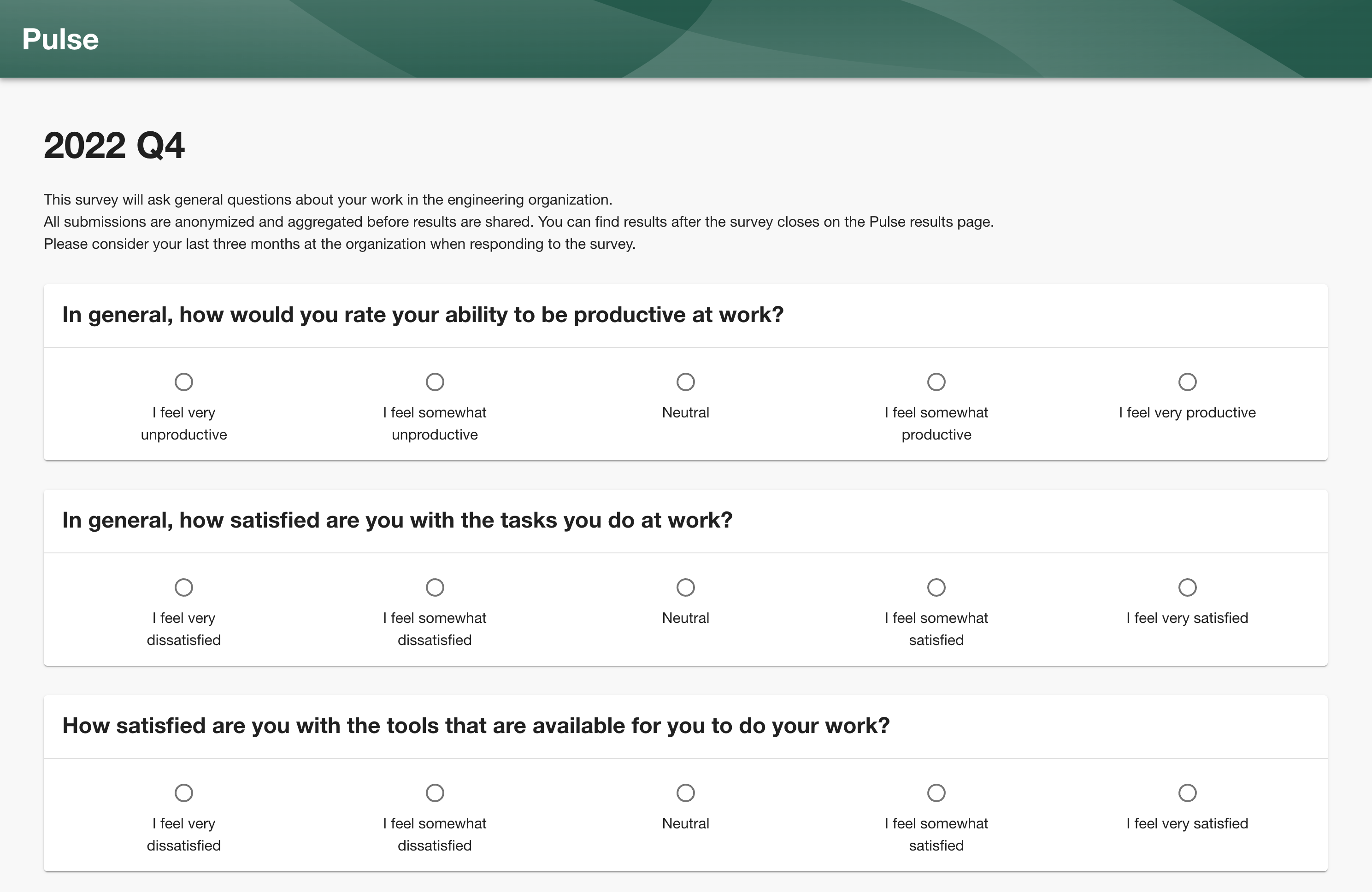 Results
Pulse survey results show and visualize trends over time for core R&D metrics like productivity and satisfaction, and can help teams across your organization prioritize initiatives that speed up R&D.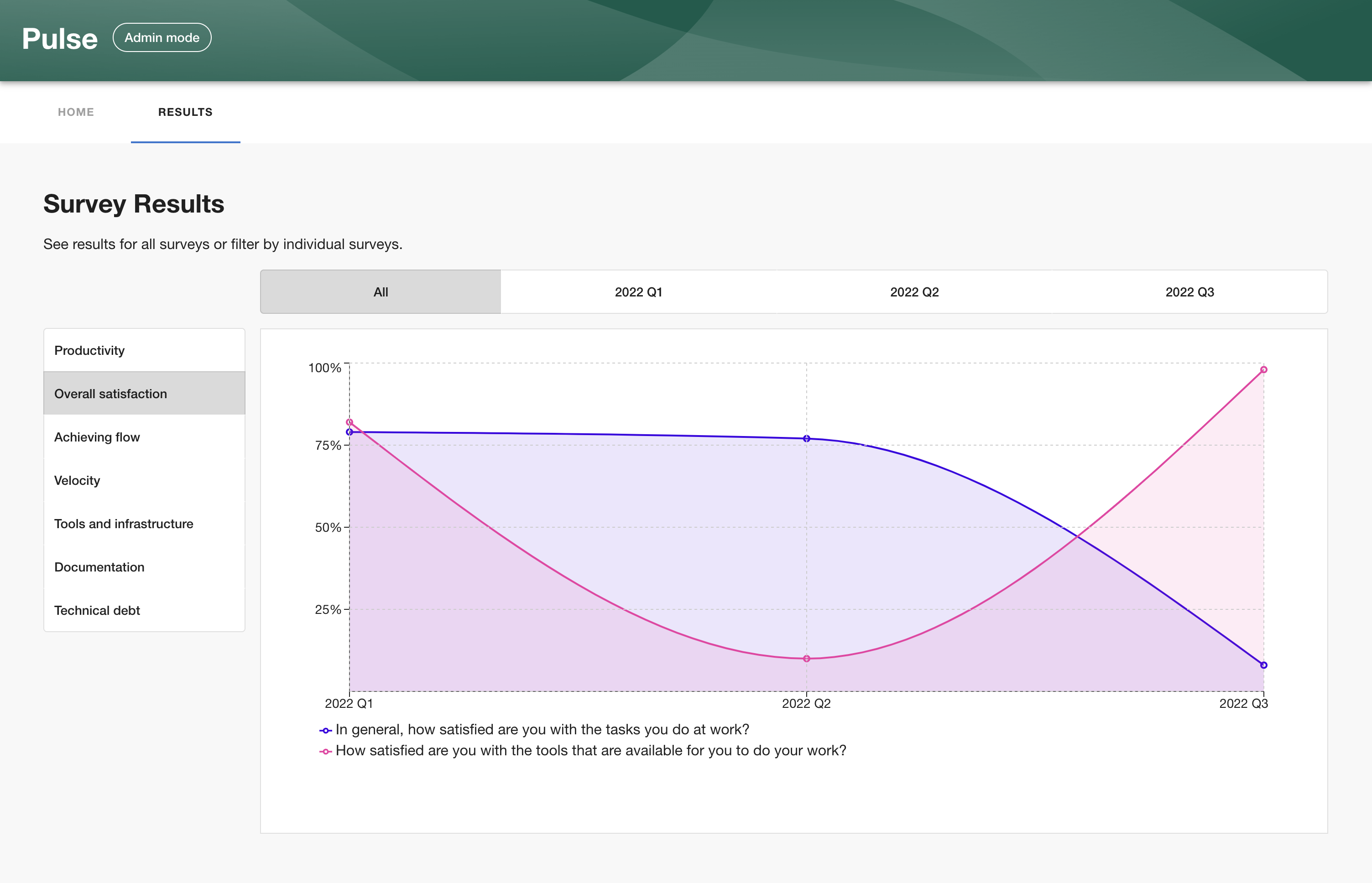 Frequently Asked Questions 🤔
Where can I find installation instructions and technical documentation for Pulse?

All of the installation instructions for the Spotify Plugins for Backstage are public via npm packages. You can find the documentation specifically for Pulse in this npm package. 
What's the difference between Pulse and other HR survey tools?

While typical HR surveys are great at helping to understand the needs of employees in general, Pulse is designed to surface insights about key drivers of engineering culture, productivity, and satisfaction. We've carefully crafted Pulse questions with experts in these fields, which means response data can be used to inform all kinds of decision-making targeted at improving the engineering experience.
What does the survey consist of?

The survey consists of a core set of questions related to engineering culture, tasks, and ways of working. The question set is designed to surface key insights related to an organization's engineering productivity, satisfaction and culture.
Can I create my own survey questions?

Pulse's primary objective is to help organizations track a key set of metrics related to engineering productivity, satisfaction and culture. To do this, we rely on asking a consistent core set of questions that we've developed alongside experts in this field. At the moment, this set of questions cannot be changed, but our ambition is to allow users to extend this set of questions in the future.
Are responses anonymous?

The survey responses are aggregated before they are made available to view on Backstage and the individual responses are disassociated from whoever made them. Any insights are presented at an aggregate level, as our goal is to reveal organization-level trends which can be used to inform decision-making, rather than focusing on individual responses.
Can managers view which members of their team responded to the survey?

No, managers cannot view this information. We have thoroughly considered this decision to encourage survey participants to be as honest as possible without worrying about their privacy. We also hope that this level of anonymity will encourage a high survey response rate.
Who has access to run Pulse surveys and view the results?

Your organization will assign Pulse administrators based on their Backstage login identity. Administrators can set up, open, and close surveys, as well as review the results before publishing them to the entire organization.
How do participants access the survey and view results?

Pulse is entirely embedded into Backstage. Users can create a survey, take a survey, and view survey results all within Backstage on the Pulse tab.
How can I run the survey at my organization?

We recommend running the survey once every three months. As an administrator, you can set the dates and duration of the survey. When the survey is open, all users with Backstage access can see it. When the survey is completed, the administrator can review and publish the results in Backstage.
Take Backstage to the next level