Now Available: Spotify Plugins for Backstage
Author

Austin Lamon, Spotify

Published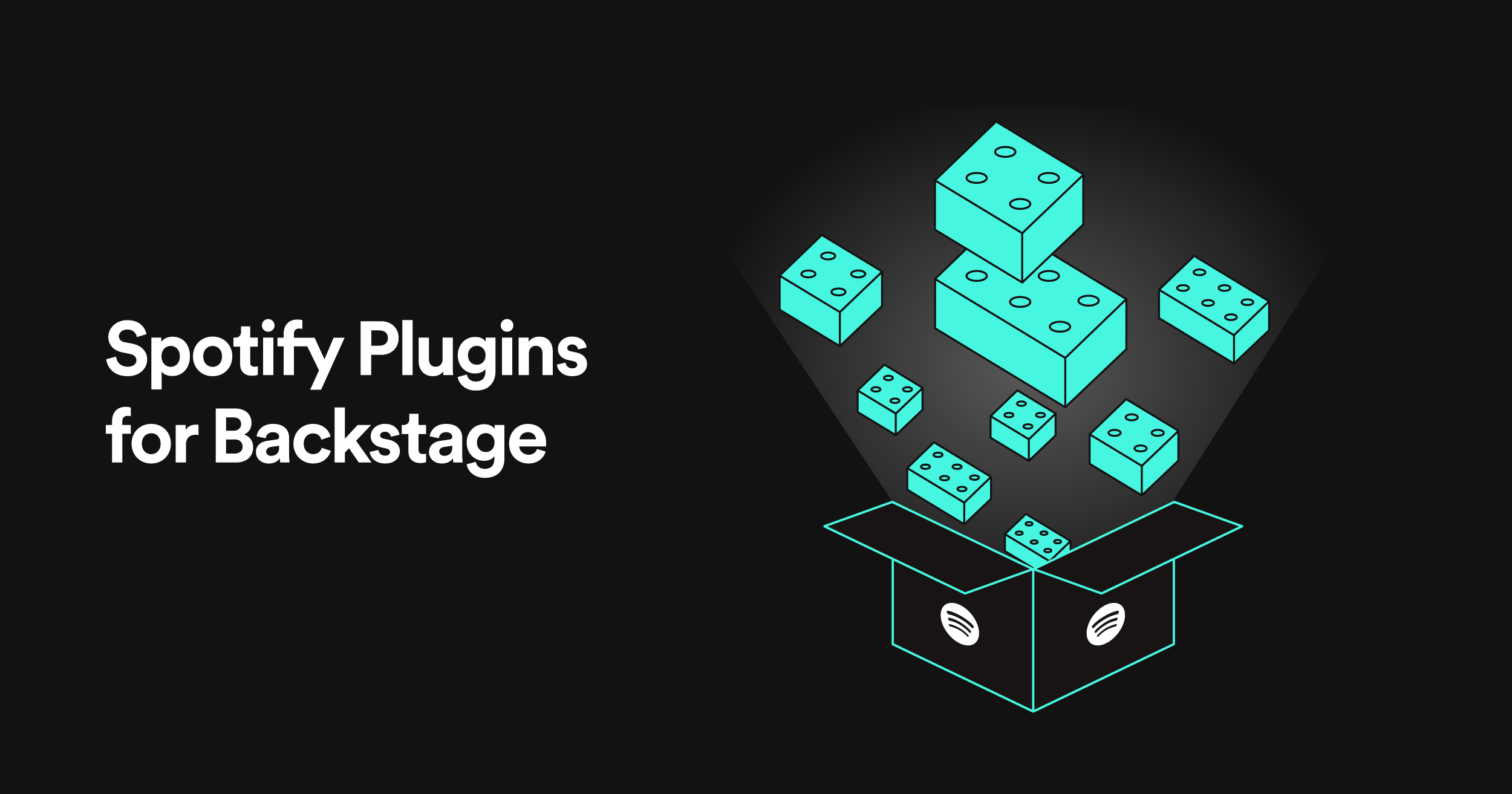 TL;DR: The Spotify Plugins for Backstage subscription is here! We're delighted to offer a bundle that encapsulates the plugins needed to level up your Backstage developer portal. You can watch our launch event or just get started with our plugins.
We're delighted to share that our Spotify Plugins for Backstage bundle subscription is now available in open beta to all Backstage adopters. After years of research and iterating, we've created hundreds of Backstage plugins at Spotify, and this bundle of five plugins represents the very best of what we've built.
Un(b)locking developer experience
At Spotify, we are obsessed with how to create a better experience for our developers. Our company mission is to unlock human potential and creativity. We've said it before and we'll say it again for the cheap seats in the back: Developers are creators!
Every company is a software company. So every company has to ensure their software developers are able to do their best work. At Spotify, we've been on a multi-year journey toward this concept of developer effectiveness, which we believe is a function of two things: productivity and happiness.

Sure, we all want productivity. Now more than ever, we need to figure out how to do more with less. But maybe more importantly, how do you turn the spotlight on the humans in your organization and find out if they're empowered? If their energy is being applied in healthy ways? And if they have what they need to experiment, try new things, and innovate? That's developer satisfaction (aka happiness). We want to help you have both.
This focus on developer effectiveness has helped Spotify realize more than 10% year-over-year increases in developer productivity with employee engagement and retention rates well over industry averages. And in the three years since we open sourced the Backstage platform, we've spoken with hundreds of companies who are all in pursuit of the same goals.
So if you want developer effectiveness, you're in the right place. The Spotify Plugins for Backstage bundle is the next step toward Spotify's goal to share what we've learned with the world. We're confident these plugins will take each and every developer portal built on Backstage to the next level, by making developers in your organization happier and more productive.
Level up your Backstage app
Don't just take it from me: Earlier today, we hosted our launch event where we heard directly from the Spotify plugin creators and Backstage users. At the launch, we covered how and why we built these plugins, the value they can unlock for you today, and, of course, we demoed the plugins themselves.
We also talked with adopters — TELUS, Expedia Group, Booz Allen Hamilton, and Bank of the West — about how they're addressing their own developer effectiveness goals with the Backstage platform, their experiences with the open source community, and their excitement about the Spotify Plugins for Backstage bundle.
Be sure to watch the replay below or read more on our website.
As a refresher — the Spotify Plugins for Backstage bundle includes five plugins today:
Get started today
As the Backstage creators, we've learned a lot in nearly eight years of development and usage. These plugins have been put through endless hours of internal use, iteration, and improvement. We know they work because they've done amazing things for us — from Soundcheck bringing test flakiness to below 1% to Skill Exchange powering thousands of collaborative hacks between teams.
We've also worked with a small group of customers to kick the tires on the external versions to get them they're ready for primetime. And there's much more to come! Our goal is to get as much feedback from the Backstage community in this open beta period and figure out how we can drive even more value for Backstage adopters.
You can get started with our plugins today by contacting us for a demo or pricing conversation.