How Shutterstock utilizes Skill Exchange to build on 20 years of hacking heritage
Author

Tiffany Cox, Spotify

Published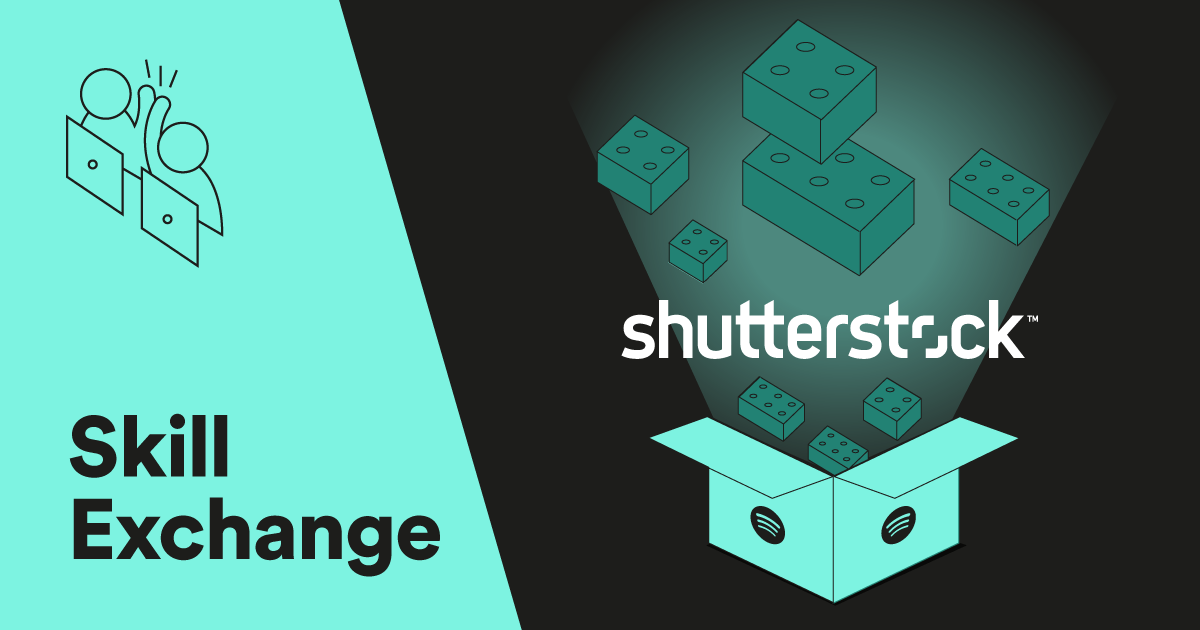 tl;dr Shutterstock has been using hacking to foster innovation since 2003 and, following the pandemic, they turned to Skill Exchange to streamline their company-wide hackathon process, making it easier to organize teams, refine projects, and distribute prizes while also showcasing unique Backstage features to a wider audience.
From its inception in 2003, Shutterstock has placed a high value on hacking, knowing that sometimes the best path to innovation is through uncommon collaborations. So when COVID shook up their previous in-person hacking traditions, the Hack to the Future Steering Committee at Shutterstock started looking for tools and software to make this highly valued exercise more turnkey for their geographically dispersed workforce.
Shutterstock, already a Backstage adopter, turned to Skill Exchange which made it easier for Shutterstock to structure teams, refine projects, run administrative backend tasks, and award prizes for their large hackathon event, leading to more participation than ever before — and zero participant complaints.
A hacking culture goes remote
Shutterstock began as a hack project when founder and former CEO Jon Oringer needed stock photography for a different startup where he was working. This origin story fed the company ethos for many years and continues to be fueled by its annual hackathon where technical and non-technical departments alike come together in the spirit of collaboration to help transform the business.
Prior to the pandemic, Shutterstock's hackathon physically brought together individuals across the whole company in office for the 24-hour event with the support of the marketing and tech teams handling event communication and orchestration.
With the shift to remote working in 2020, the Shutterstock team quickly adapted the hackathon to a digital event leveraging Google Docs and Sheets to organize ideas, teams, and registrations. While this solution worked in a pinch, the structure required a lot of manual administration to keep the event afloat. Updating a multitude of documents, matchmaking between teams with individual ideas, and building voting structures took a lot of time and didn't scale well. The Hackathon Committee expanded to a larger team to ensure a smooth event, with months of pre-planning to optimize processes.
"You'd have to set up a number of docs forms and figure out how to get them all to display on websites." said Tim Soslow, Principal Software Engineer at Shutterstock. "There's a bunch of things you have to do to get it out to everyone. And then it's posting all those things over and over again so that people can find the updated information."
Moving to a hybrid hackathon model
Thanks to high levels of internal buy-in, team members were somewhat patient with the highly manual process, but eyes were open for a scalable long-term solution.
As COVID restrictions eased and Shutterstock offices began to safely open up, the Hack Committee began planning for a hybrid event combining the historical hackathon traditions with the new remote model.
Fortunately, at the same time the organization was exploring the Spotify Plugins for Backstage bundle subscription to layer over their Backstage instance and came across a demo of Skill Exchange, which prompted the question: what if they were able to leverage Backstage to optimize the hackathon? This kismet series of events led to the Shutterstock team onboarding Skill Exchange.
Running the hackathon on Skill Exchange
With such a long lineage of hacks, Shutterstock felt confident in their hybrid hackathon approach and existing processes but they needed a tool to complement their ways of working. Having already previously onboarded Backstage as their IDP internally across many teams, Skill Exchange was a low transitional lift.
Not only was setting up the Skill Exchange plugin within Shutterstock's Backstage instance easy and fast, it alleviated a ton of manual tasks for the organizers by providing a centralized place to list hack ideas, join teams, and collect supporting reference materials. Collaborating through Skill Exchange minimized fragmented feedback via other channels and created opportunities for project refinement before the hackathon kickoff allowing the hacking teams to utilize the 24-hour coding window to dig deep on vetted projects. Skill Exchange also made it easier for the team running the event to host participant voting to select winning projects.
"The hackathon itself is still pretty much intact, but it did make it much easier to organize and much easier for people to find their teams and for them to organize internally," said Soslow. "Now that we have this tool, we don't just have to wait for the companywide hackathon. Individual teams can have their own short one-day hacks and it doesn't have to be a whole lot of work to put it all together."
While still working to refine success metrics for future events, the team noted a distinct lack of complaints across the entirety of the hackathon, which is a major victory. Soslow attributes this win to Skill Exchange's setup.
"It was pretty intuitive, everyone from the tech savvy to not were able to join teams and that worked very well." He said.
Skill Exchange introduces Backstage
For teams not already working regularly within Backstage, the hackathon also served as a great introduction to the IDP and the core services.
"One of the cool things about introducing Backstage with the hackathon is that we got to show off some of these features to people that normally would've never made it into Backstage. Now they know it's there, and if they do have a question about a certain project, maybe they'll check Backstage first," said Soslow.
While not a direct goal of the event, this halo effect is expected to have some lasting benefits on the Shutterstock team as they drive their developer portal adoption further.
Building from Shutterstock's success
After 20 years of hacks, the Shutterstock team has some great advice for organizations looking to integrate company wide hacking into their culture.
Clear, early communication: Shutterstock works to hype teams up for the hackathon at least two months before the event to allow for ideas to get documented and shared so teams can optimize their time during the actual hack sprint.
Leadership buy-in and support: A hacking culture requires commitment from the top! Executive buy-in is necessary in order to create an environment where team members feel comfortable and are actively encouraged to dedicate time and focus to the hack.
Streamlined processes and systems: A successful hackathon is backed by repeatable processes and systems that make it easy for anyone to participate regardless of their tech knowledge. To create the most internal buy-in, make the process as easy as possible for all tech comfortability levels. This makes the company-wide hackathon more fruitful and might inspire more teams to embrace hacks into their regular planning cycles.
Book a demo
Interested in learning more about Skill Exchange? Join one of our weekly demos to learn more about core features, use cases, and how you can leverage the plugin to build more learning and collaboration opportunities in your org.