Five ways to leverage the Insights plugin
Author

Harry Hogg, Spotify

Published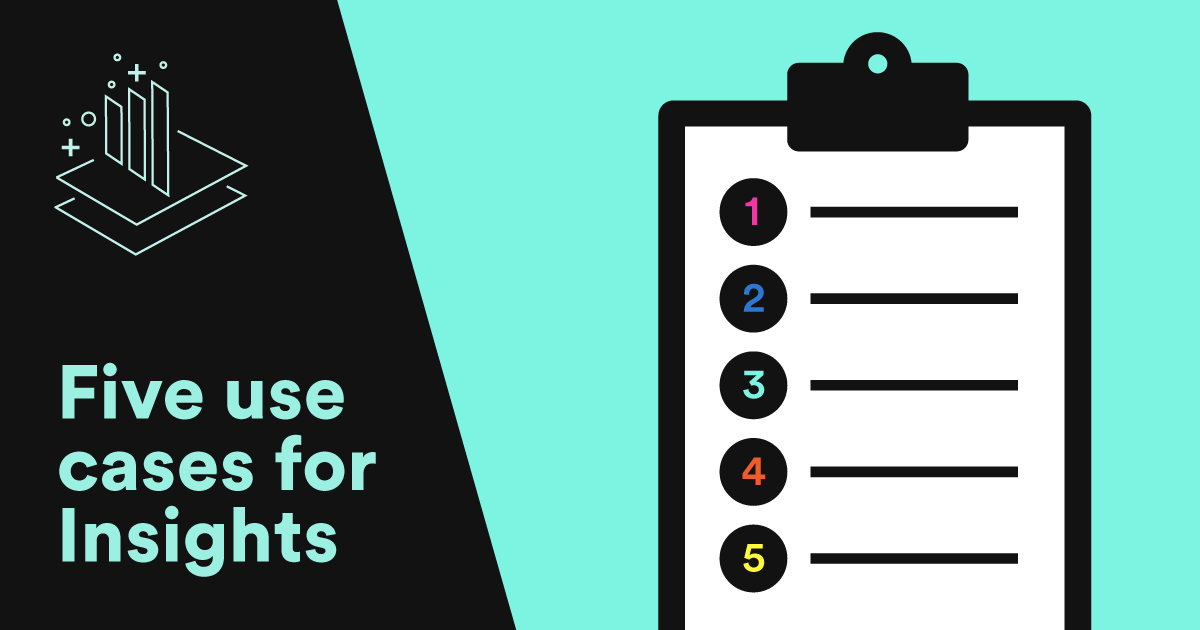 tl;dr: Just last month, the Insights plugin received some pretty major upgrades with a range of new features — opening up fresh possibilities for leveraging the plugin. Insights is designed to provide Backstage champions with comprehensive information about Backstage — now surfacing dashboards within your Backstage app. To ensure you make the most of the latest release, we've compiled our top five use cases for Insights.
Before we get to the suggestions, let's take a trip down memory lane. Back in 2016(ish), when we launched Backstage internally at Spotify, we had to get very clever about how to encourage people to actually use it! Early on, we discovered that ensuring our end-user developers were happy was key to growing adoption – and that meant offering a solution that they genuinely enjoyed using. So naturally, we treated Backstage as a product and started measuring usage data to assess end-user satisfaction and to incentivize adoption. We took these lessons and packaged them into the Insights plugin for Backstage adopters to benefit from. The latest release of Insights dashboards covers the types of data you'll need to make the best decisions about your adoption efforts.
Now onto the good stuff! Here are our top five suggestions for maximizing your experience with Insights:
Assess and learn from user onboarding: The Users view can help Backstage champions understand user onboarding progress by tracking total active users (TAU), daily active users (DAU), and daily active users segmented by a variety of dimensions. This information can be used to identify areas where the team(s) driving adoption may need to focus their efforts, work on a smoother onboarding process, or highlight teams that are succeeding. Take the opportunity to interview these teams and understand the reasons behind their onboarding progress. Maybe you can share best practices across the org from the teams onboarding the fastest.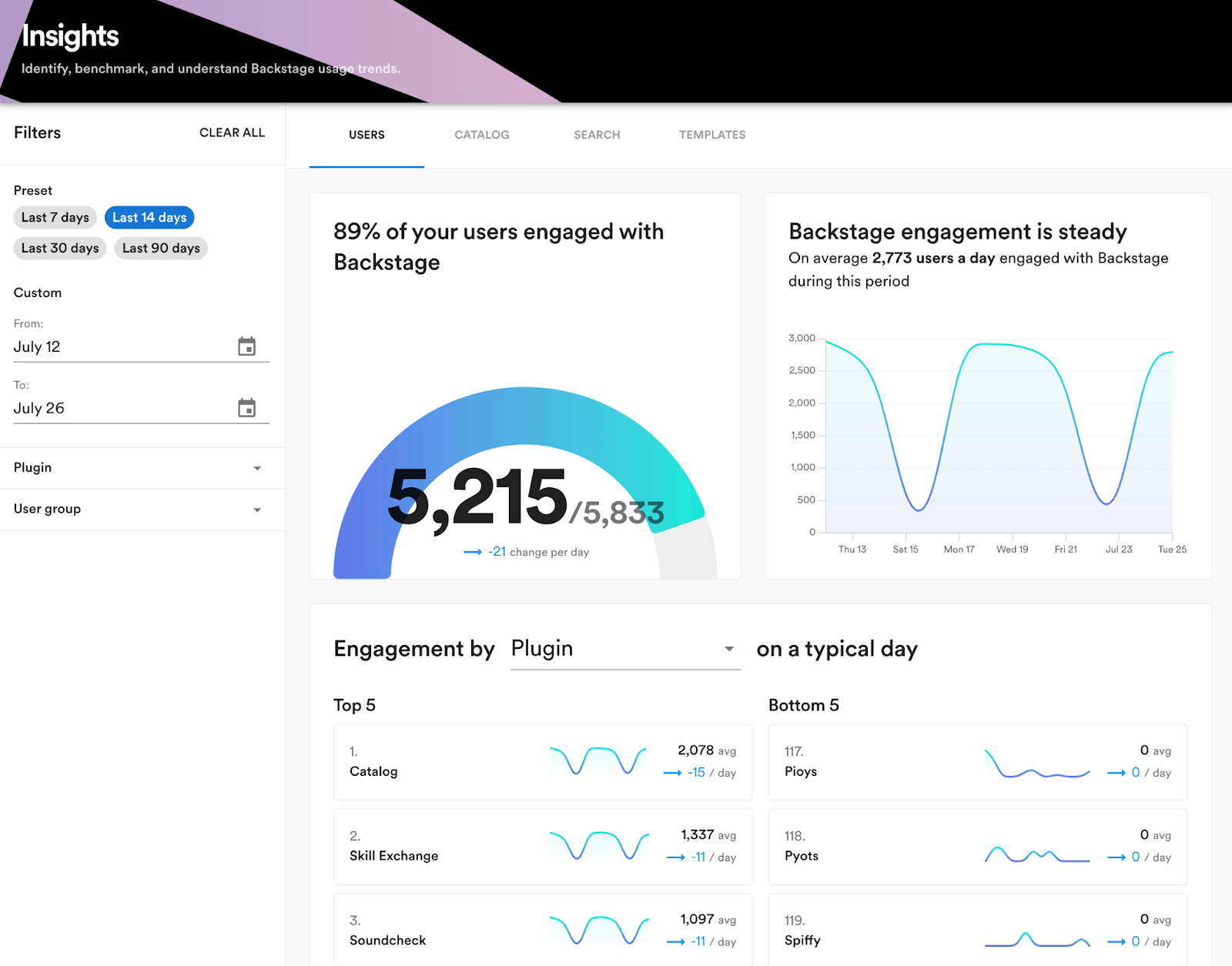 Optimize search capabilities: The Search view within Insights captures and analyzes search queries. By gaining visibility into what users are searching for, Backstage champions can learn and optimize search capabilities accordingly or rethink architecture and UI decisions within their Backstage instance. For example, if the highest volume of search queries is for a specific plugin, that's a good signal it should be more visible on the sidebar. Just like people type "Google" into the Google search bar, we see users searching for "Backstage" in Backstage… on average 345 times a day at Spotify 🤷.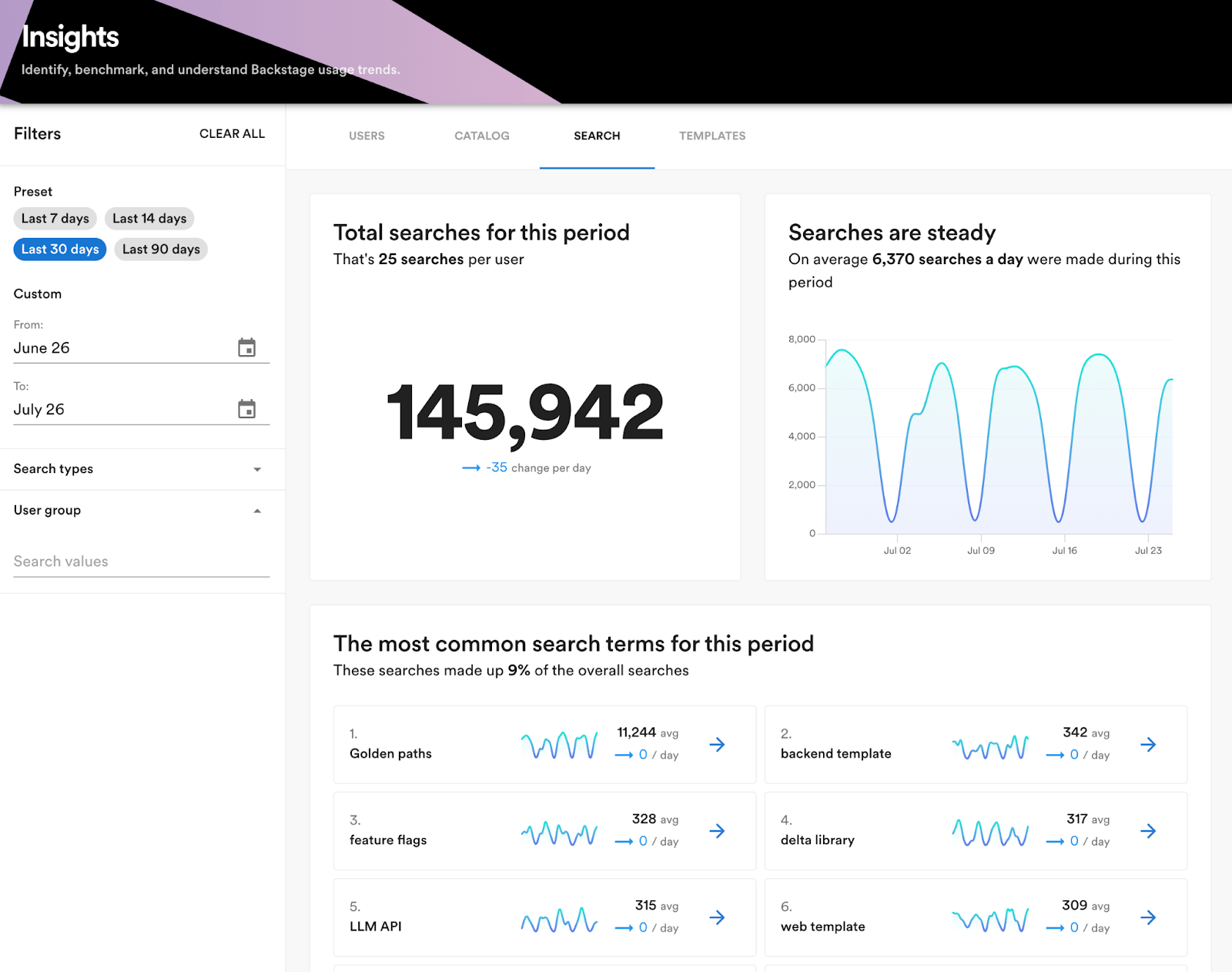 Evaluate adoption performance: Similar to assessing onboarding, it's important to evaluate how widespread and sticky your developer portal adoption rates are. With TAU data, you can measure growth and adoption over time. With these benchmarks you can identify areas with low adoption, create initiatives aimed at increasing user participation, and make data-driven decisions for future improvements. Pro tip: use the date filtering feature to compare the period of the start of the program to the end, to understand your impact on adoption… you'll thank us for this when you use these results in your next performance review 😉.

Learn the "why" behind team activity levels: With data segmentation capabilities, champions can segment Backstage usage data by teams. With this information you can identify the most and least engaged teams and talk to them to understand what is working well and what isn't working in your Backstage app. These learnings might translate into bug fixes, new features, or new documentation to drive higher activity levels. We're still not quite sure if seeing the C-level team at the top of the charts is a good or bad thing 🫣…

Set benchmarks and goals: By analyzing data and tracking the progress of DAU, champions can establish realistic targets for increasing user engagement and monitor the supporting initiatives aimed at achieving those goals. This might be particularly handy information to report to different stakeholders interested in your Backstage app, and hopefully leaves you feeling rest assured that your adoption efforts are going well!
And there you have it! Our top five recommended ways to leverage the Insights plugin. Our hope with Insights is that you can paint a picture of how users engage with Backstage at your organization. These insights should help you treat your developer portal as a product so that you can build an experience that your users truly enjoy.
Ready to give Insights a try? Talk to our sales team.
Want to learn more about the plugin? Request our documentation.