Backstage Unconference recap: Homepage, systems and domains, TechDocs, InfoSec, and more!
Author

David Tuite, Roadie

Published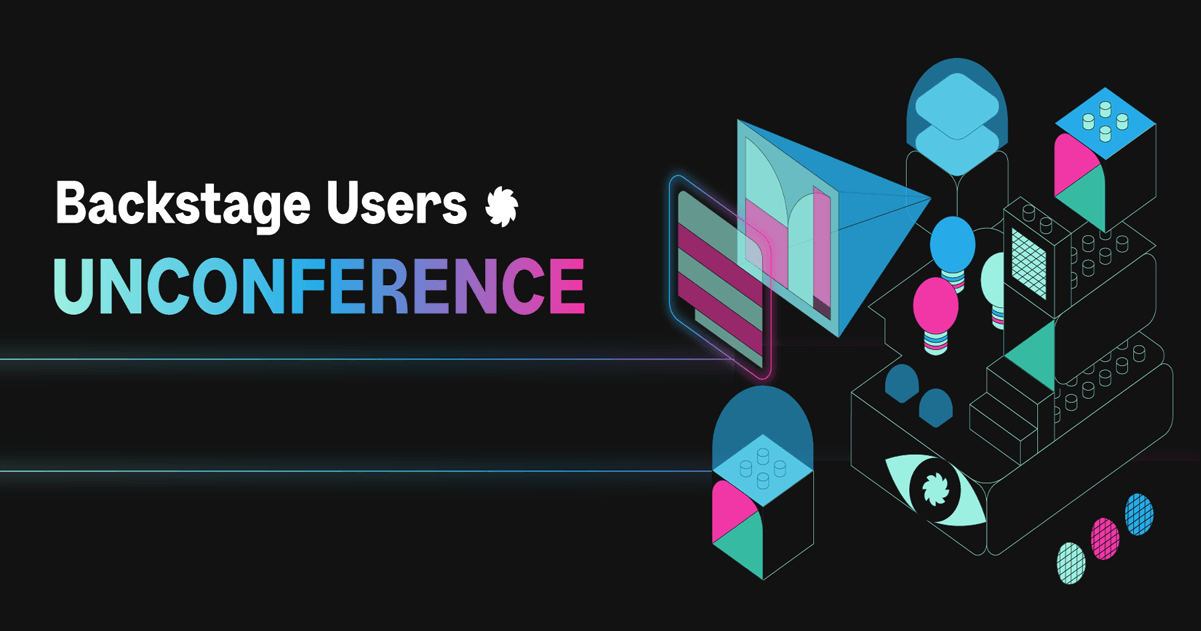 tl;dr Read on for key takeaways from the second Backstage Unconference which took place on March 3. More than 90 people joined the event to talk about all things Backstage and we wanted to share our notes in case you missed it. 📓📝📎
Eight topics were discussed over the course of the two-hour event with each topic proposed and selected by event attendees. The selected topics were:
How to keep Backstage up-to-date
How to use Backstage to catalog monolithic services
How to use the Homepage plugin and what to use it for
How to grow TechDocs adoption
How to model systems and domains in Backstage
How to let multiple teams contribute functionality to Backstage
How to do ingestion integration testing with Backstage (live demo!)
How to convince your InfoSec team that it is safe to connect Backstage to internal systems.
Once the top topics were upvoted, we divided into smaller discussion groups where we could dig in on each one.

Takeaways
The Roadie team was on hand throughout to note significant takeaways or discussion points. Below are some of the key things we picked out.
Using the Homepage plugin
The cards people are using on the homepage include items for:

Recently visited entities
Favorite entities
A "Getting Started guide" for a first time Backstage user
A company news feed

There is ongoing discussion about how to customize the homepage. For example, should each end user have power over their own homepage layout or should it be set the same for every user?
Some teams are organizing their homepage around the question "What should I work on today?" while others are targeting "I'm new here…how do I get to X?"
Modeling systems and domains
There was a general question around how to use domains as a concept
Systems are composable so they offer more flexibility. Domains are more uncertain. For example, there is confusion around whether they should be "vertical" based on a particular product that the company offers or "horizontal" based on a role that might exist in multiple teams.
People wondered if domains within domains could make sense.
People would love if dependencies between components could be worked out automatically
There was an idea to use dependencies as an information feed for Tech Insights. For example, if you know that Service A depends on Service B, and service B has a problem, we could theoretically use Tech Insights to highlight that Service A has a problematic dependency.
In order to try and address some of the questions raised, we've published a guide to modeling systems in Backstage.
Adopting TechDocs
For some companies, the biggest friction point for TechDocs is getting everyone to add the techdocs-cli build step to their pipeline. For others, this is a non-issue since they have injection points in every CI where they can add functionality.
Exporting to markdown from Confluence doesn't really work. They have too much custom markup and too many widgets. Exporting from Notion works better since it exports clean markdown.
Convincing your InfoSec team
Putting Backstage behind the VPN is an obvious security choice, but it introduces friction for people who are trying to use Backstage and some orgs don't want to do it for that reason.
For Backstage to be successful, you need large scale adoption so friction minimization should be prioritized.
Thank you!
The organizers wish to say thank you to everyone who attended and helped to make this event special. An Unconference is only as good as the community serves, and the Backstage community has shown itself to be an enthusiastic and welcoming space once again.
Thank you to the Backstage team at Spotify for announcing the event in the official Backstage community newsletter.
Lastly, thank you to Martina from Roadie and Jorge from Frontside for organizing and hosting the event. Herding 90+ people to simultaneously suggest and vote on topics is no small feat, and this event went down smoothly thanks to your efforts.
See you next time
We plan to have a Backstage Unconference approximately once per quarter going forward. You can expect the next one to happen some time in July.
To find out when the next one is happening, make sure you're subscribed to Roadie's Backstage Weekly and the official Backstage community newsletter.